The Dog Body Language Translator (What Did You Say?)
Introduction:
Have you ever asked yourself, what is my puppy actually saying? To the uninformed, dogs simply sniff their way around the world and bark at the occasional cat. Dogs are very expressive animals. They communicate when they're feeling happy, sad, nervous, fearful, angry, and they use their faces with their bodies to convey much of this information. Understanding dog body language can drastically improve training results, prevent fights and other unwanted behaviors before they occur. Its like a window into the future that only a handful of pet parents will ever understand. What most dog owners don't understand is their four-legged companion is trying to communicate with them through body language. Here's how to see what he's telling you.
The Tail Myths 
Starting with the most common dog trait of them all, the tail.  Perhaps no form of body communication is riper for misinterpretation than his tail. Most of us grew up thinking that dogs only wag their tails to express joy. Wagging can be compared to the human nod during a conversation. How many times have you continually nodded to somebody with zero interest in the person. While dogs tend not to lie with their tail, its most definitely misunderstood. Lets go over a few tail behaviors and the meaning behind them.
What Is The Tail Saying ?
Fear – The tucked positioning of a tail can signify everything from uncertainty to pure fear in a dog. Many dogs that enter the dog park for the first time will tuck the tail between their legs during the butt sniffing assault. In extreme fear, dogs will lay on their back with the tail tucked showing total submission.
Keep Calm – If your furry friend hang his/her tail just below the horizontal life, it is very calm and relaxed. This is equivalent to humans walking around town with arms lightly swinging. Understanding this can defuse tense situations.
Confidence –  Tail is raised about 50% above the horizontal line. This shows that the dog is confident and not scared. You'll find that most of the dogs running around the park have their tails raised with a relaxed body. You will also find that the dog that starts to pull on the leash will raise its tail because it knows exactly where he/she wants to go.
Happy/Go Away –  A fast wag is generally good,  but a slow wag usually signals that a dog will not be friendly or wants no company.
Arousal/Aggression – The tail will be straight, stiff, and slightly wiggling. Body language is key to differentiate the two. Aggression will be apparent with ears folded back with teeth and growling on display.
Ears Do More Than Just Listen
A dog's sense of hearing is significantly greater than a human's. Studies have shown that dogs are capable of perceiving frequencies about twice that of a normal human and can pick up and distinguish sounds roughly four times that of humans. Dogs can can detect a frequency range of 67-45,000 Hz, compared to a human range of 64-23,000 Hz. Unlike humans however, the ears are great indicators for telling you what your dog is feeling. 
What Are Those Ears Doing? 
Alert or Concerned – Ears are pricked, body weight is rolled forward, his tail is lifted and the mouth is shut. If you live alone and watching television in the middle of the night, pay close attention to the dogs ears. If he/she raises the head and perks the ears, there might be someone outside.
Fear/Anxiety – When the animal is scared he/she will fold the ears flat backwards. Have you ever caught your dog chewing on expensive furniture? "Bad Dog!" you probably said in a deep angry voice. You will quickly discover that the dog bends the ears backward begging to show fear.
Put It All Together
While reading a dogs tail or ears can give clues to what the dog is feeling. It will never give you the full picture. The combination of the tail, ears, back arch, and mouth signals will truly explain what the dog is feeling.  Is my puppy playing? Is she angry? These are questions that dog owners fail to answer and avoid dog socialization because of one bad incident. The key to of correcting bad behavior is to correct before it ever arises.  Lets go over the most common body language that you might encounter on a weekly basis.
Calm and Assertive : Just Another Day For The Dog
Mouth is slightly open and relaxed.
Tail is relaxed just below the horizontal line.
Ears are typically up but now facing forward or backward.
Weight of the dog is evenly distributed.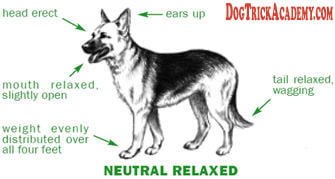 Scared and Submissive: Please No! Leave Me Alone
Tail is tucked behind the legs.
Ears are folded back nearly flat.
Mouth will topically be closed.
One paw lifted in the air like a person protecting the face.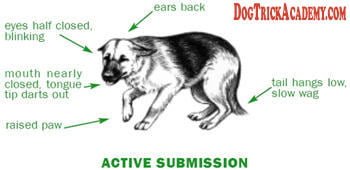 Aroused: Whats Going On?
Tail will be in the upward position and very stiff.
The ears will be pointed straight forward listening to the action.
The body will be stiff on high alert with a slight lean forward.
Eyes will be wide open.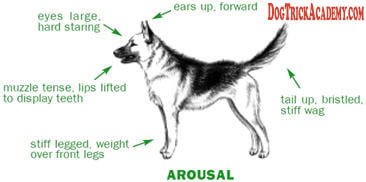 Defensive Aggression: Get Away From Me NOW!
Dog will display signs of fear mixed with aggression.
Air snapping – the dog snaps in the air to warn something to back away.
Hair on the back of the neck will stand up like a cat.
Immediate bite and release with bruising or slight wound, telling a threat to back off.
Showing of the teeth.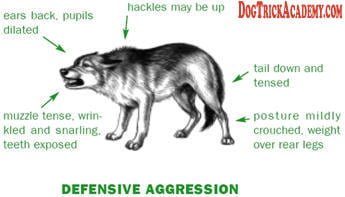 Aggressive Attack: Fight Me!
Dog will display signs of aggression without fear.
Lips will be curled with teeth ready to attack.
Constant growling and snarling , expressing domination.
Tail will be up and totally stiff.
Ears will be up and forward for the action.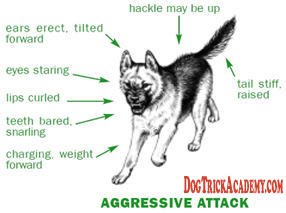 Look For Telling Signs While Training
These are the most common body posses your beloved pet will make. While some may seem quite obvious, its important to note that they do not appear without warning. An aggressive defensive dog for example will begin to show his or her intolerance towards another by showing teeth and walking away. As this continues the dog will eventually snap and turn into attack mode.  The ability to spot the signs makes training the animal much easier. The perfect example was with our German Shepherd, Sasha. She had a terrible habit of attacking other dogs at the park that had a ball in their possession. Before she would seek interest, Sasha would perk the ears forward and show the aroused body language from a distance toward the other dog. At that very moment we would correct her and she turned calm and assertive.
Take a closer look at your pets body language as you enter the dog park for the first time. Is he tucking the tail before he enter the park? If so, let him sniff the group through the fence to get a better idea of who is inside. This applies for every single aspect of the dogs life. Do you want to train them to never jump on the couch? Before the dog makes the decision to hop on your expensive couch, he will glance at it or stare at it when you're on it. At this point its time to correct and say "No!" Catch is before it even happens.  If they want to poop, they will sniff the ground in circles in search of that perfect spot.
Here Is A Detailed Video Of Dog Body Language: Click for part 2
Body Language Of Sick Dogs
Knowing if your beloved pet is not feeling well can be the difference between life and death. Dogs have a strange way of hiding their illness. They may seem tired or just bored.  One must act swiftly and consult a veterinarian if health complications begin to arise. Its imperative that you feed the dog quality food without the garbage that humans tend to eat. Lets go over some of the common signs that the dog might show if health is the issue.
Telling Signs Of Illness:
Vomiting or Diarrhea – If the dog begins to vomit or engage in diarrhea, do not panic. As many dogs have sensitive stomachs, this can be a simple reaction to something they ate outside. But a pet that vomits, especially several times in one day, acts lethargic, and lacks appetite needs a veterinarian's attention, according to experts.
Decreased Activity – 

If an energetic dog acts lethargic for no apparent reason for days at a time, see a doctor. Our German Shepherd, extremely energetic dog, seems defeated and did not want to move for a couple of days. She ended  up having bacteria and was placed on antibiotics for two weeks. 

Hair Loss/Itchy Skin – After a trip to the woods, fleas, ticks, and other unwanted critters can cause irritation to the dogs skin. Its important to inspect the dog and spot for unwanted guests hiding in the fur. Wash the dog regularly and invest in flea treatment.
Excessive Coughing, Sneezing, and Panting – Believe it or not, animals can get a cold. Keep a close eye on the dog during this time and if does not get better, see the vet. If the dog is panting out of control, take them to the emergency vet.
Conclusion: 
Body language in dogs can tell you so much about their emotions. If read properly, you can capitalize on this skill and utilize it to maximize training results and enjoy the dog ownership experience to the fullest. Knowing how to read body language in a dog can prevent fights, bad habits, and accidents in the home. It will give you a sneak peak into the dogs way of thinking and total control if needed. Simply knowing the basics can drastically improve your comfort level around other dogs just like knowing the basics of an different language in a foreign country. Love your dog and remember that dogs show a sneak peak into the future before they commit the act.
Subscribe to our Newsletter!
Don't forget to check out some of our funny and cool dog gifts at  www.DoggyCrap.com
Leave a comment below and tell us about your experiences!
GOOD LUCK!
More Blogs
Store
Online Dog Training